Premium Bandai will allow you to consolidate multiple orders into one from the [CONSOLIDATE ORDERS] section of My Page.
After consolidating multiple orders into one, you will only need to pay for shipping a single time. However, there are conditions for consolidating orders.
Said conditions are detailed further down on this page.
For more information on item consolidation, please refer to the following FAQs.
Conditions for Consolidation
・All items must have the same delivery month.
・All items must be sold by the same company.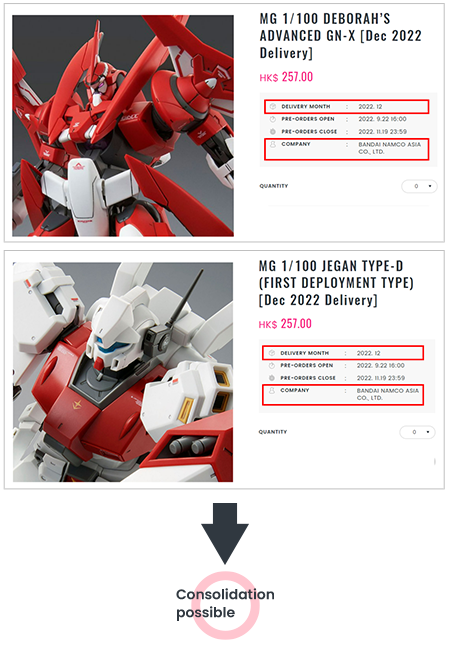 ---

The total number of orders to be consolidated at one time must be 5 or less.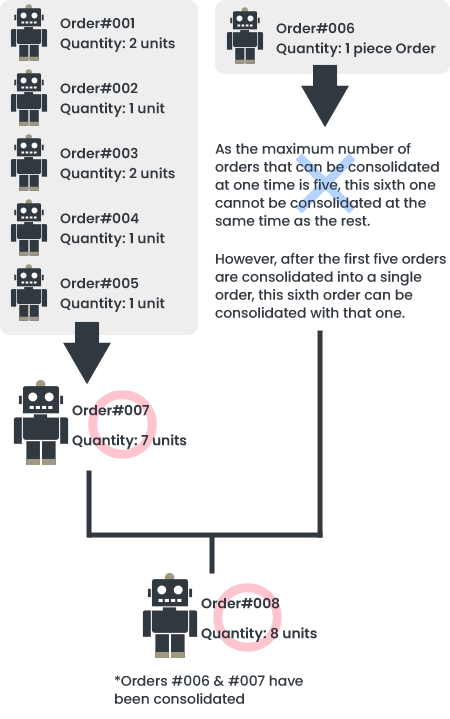 ---

If there is a set maximum number of a specific item that can be purchased in a single order, that order can only be consolidated if the newly consolidated order would not exceed that maximum.
① Maximum 1 unit per order, 3 units per person.

② Maximum 24 units per order, no limit per person.




---

If one order is split into several because one of the included items has been delayed, neither of the resulting orders can be consolidated with any other order.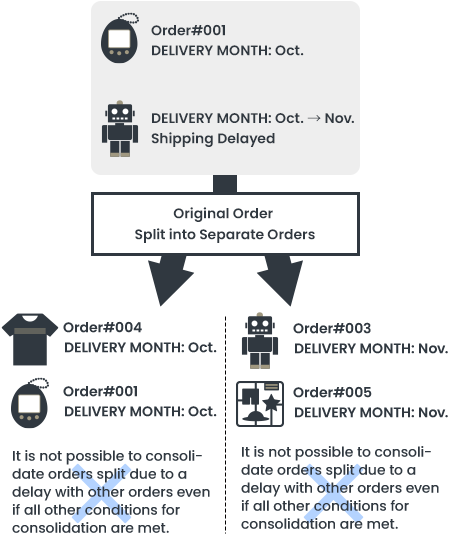 *Important Note:
Order consolidation is possible if the order with the delayed item is not split (meaning all items in the order would ship together with the delayed item).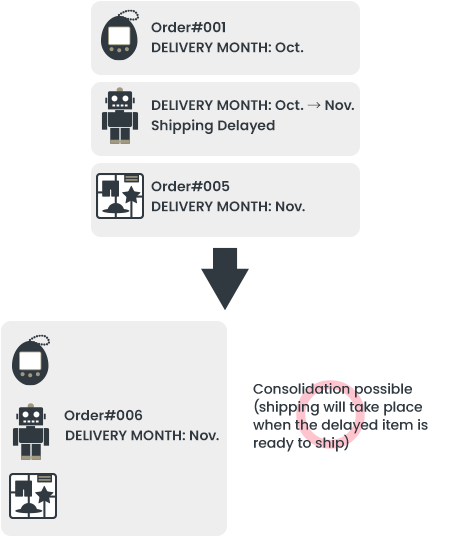 ---

Prizes and free gifts are not eligible for order consolidation
① Prize

② If an order is created with [Prize Product] assigned to another product




---

Orders that have free shipping can only be consolidated with other orders that have free shipping. The same goes for paid shipping.
① Paid Shipping

② Free Shipping

③ Paid Shipping and Free Shipping
---

Some items are not eligible for consolidation
*If this is the case, it will be noted on the item's store page.
---

The deadline for order consolidation is 11:59 PM (SGT) on the 20th of the month before the delivery month.